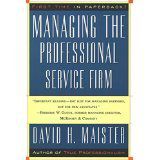 One of the most interesting discoveries in my consulting work has been the fact that (apparently) every professional service firm in the world has the same mission statement, regardless of the firm's size, specific profession, or country of operation. With varying refinements of language, the mission of most professional firms is:

To deliver outstanding client service; to provide fulfilling careers and professional satisfaction for our people; and to achieve financial success so that we can reward ourselves and grow.

The commonality of this mission does not detract from its value. Simply put, every professional firm must satisfy these three goals of "service, satisfaction, and success" if it is to survive. Management of a professional firm requires a delicate balancing act between the demands of the client marketplace, the realities of the people marketplace (the market for staff), and the firm's economic ambitions.

Many factors play a role in bringing these goals into harmony, but one has a preeminent position: the ratio of junior, middle-level, and senior staff in the firm's organization, referred to here as the firm's leverage. To see the importance of this factor, we shall briefly examine, in turn, its relation to the three goals of the firm.